不知是否合口味,顺祝节日快乐!
音频:共8本书,mp3,其中book1,4-8 是128kbps,book2、3是64kbps
文本:epub或html格式
压缩后大小:2.28G
密码:ebama.net
The Sisters Grimm is a children's fantasy series written by Michael Buckley and illustrated by Peter Ferguson.
Eleven year old Sabrina and seven year old Daphne are orphans that go to live with their grandmother (who they thought was dead) in the town of Ferryport Landing. After the disappearance of their parents and going through numerous foster homes, they soon find out that their grandmother is a very strange person who says that the town is filled with fairy-tale beings, also known as Everafters. Daphne believes her, Sabrina does not and wants to escape but when she and Daphne try to, they are attacked by Fireflys in the woods who are controlled by Puck. Later, their grandmother and Mr. Canis get kidnapped by a[Giant that is destruction in the town. Sabrina and Daphne, alone in the woods, soon meet Puck (From A Midsummer\\\'s Night Dream), and mistake him for Peter Pan, enraging him. He agrees to help them save their grandmother since she was kind to him and fed him sometimes. They also meet the Magic Mirror that is a household item in their home. While being pursued by the police(the three little pigs). Sabrina, Daphne, and Puck escape the house on a magic carpet and fly to the Ferryport Landing jail where they rescue Jack (From Jack and the Beanstalk.) Jack forms a plan to sneak into the Mayor\\\'s Mansion and try to get information about the giant. But the giant finds them instead and wrecks the rich mayor\\\'s mansion. Sabrina (disguised as Mama Bear from Goldielocks) and Daphne (disguised as the Tinman) escape and find out that Jack tricked them. He was the one who set loose the giant hoping that by killing it in front of a crowd of news reporters he would come back into immense fame. They also discover he is part of a shady organization known as The Scarlet Hand. But just as things are looking their bleakest, he is stopped by Mr. Canis, who transforms into the Big Bad Wolf (trapped in Mr. Canis\\\'s body), and the giant is sent back to his kingdom.
Book1 The Fairy-Tale Detectives
Two sisters,eleven-year-old Sabrina Grimm and her seven-year-old sister Daphne, are sent to live with their mysterious grandmother, Relda Grimm, whom they had previously believed to be deceased, in the small East Coast town of Ferryport Landing. The sisters begin to unravel a mystery that reveals a family secret. Sabrina and Daphne learn they are descendants of the Brothers Grimm and that fairytale beings—known as Everafters—reside in the town to which they\\\'ve been brought. When their grandmother is kidnapped by a giant, it is up to the sisters to rescue her.
Book 2 The Unusual Suspects
The Sisters Grimm start school at Ferryport Landing Elementary. Daphne gets Snow White for a teacher, while Sabrina\\\'s stuck with Mr. Grumpner and a class of mildly psychotic sixth graders. When Mr. Grumpner is murdered in a particularly unusual way, it is up to the Grimms to find the Everafter who did it. A great friend turns into a great enemy (a member of the Scarlet Hand), and when the school is blown up, Mr. Canis doesn\\\'t make it out in time.
Book 3 The Problem Child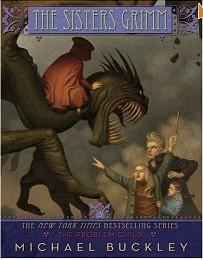 The Sisters Grimm face their parents' kidnappers, an organization of Everafters who call themselves the Scarlet Hand. One of them turns out to be Little Red Riding Hood, and the other, the Jabberwocky, an unstoppable killing machine. Puck kisses Sabrina. The girls have little hope of rescuing their mother and father ntil their long-lost Uncle Jake returns home with stories of a weapon, now missing, that can kill the Jabberwocky. Sabrina, given a wand by Uncle Jake, gets a magic addiction. Only the Blue Fairy can put the pieces of the Vorpal Blade together, but who has the pieces? And who is the Blue Fairy anyway? Mayor Charming, for once, has competition for the mayoral election by the Queen of Hearts. Puck\\\'s wings are ripped off in a Jabberwocky attack at a diner.
Book 4 Once Upon a Crime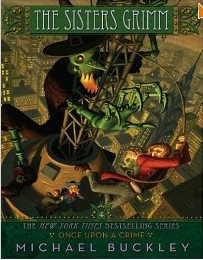 Sabrina just wants to be normal - no detecting, no dangerous escapes, and especially no Everafters. Unfortunately, New York City is a city filled with wand-wielding fairy godfathers, swashbuckling Wall Street pirates, subway stealing dwarfs, and worst of all... a murderer in their midst. This makes Sabrina feel sick about her old home. She doesn\\\'t think it safe there anymore either. The girls and their friends must figure out who killed Puck\\\'s father, King Oberon, while coming to terms with their mother\\\'s secret life. They also have to deal with Puck\\\'s cocoon; he sprayed Sabrina and not Moth.
Book 5 Magic and Other Misdemeanors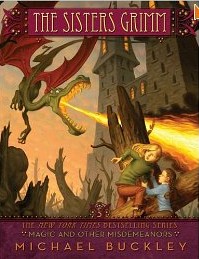 Someone is stealing the magical possessions of the most powerful Everafters in town? Granny is distracted by Mayor Heart\\\'s campaigning against human residents, the girl detectives are on their own. Puss in Boots(now an exterminator), Cinderella (a radio relationship counselor), Sleeping Beauty (owner of a coffee shop), and their old enemy,Prince Charming, are among the many suspects. The girls get sucked into the future and are surprised at what they see.
Book 6 Tales from The Hood
A kangaroo court of Everafters, led by Queen of Hearts, is determined to find Canis guilty and force the Grimms out of Ferryport Landing. Meanwhile, Puck has decided to focus more on his mischievous ways, making a few new troublemaker friends. So it's up to Sabrina and Daphne to find evidence to save Canis.
Book 7 The Everafter War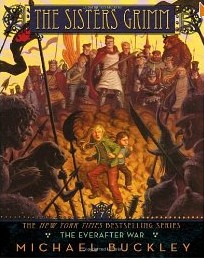 Sabrina and Daphne's parents awake from their sleeping spell. But they are caught in the middle of a war between the Scarlet Hand and Prince Charming's Everafter army. As the family works to help the prince's and protect their friends, Sabrina faces the family's deadliest enemy — the mysterious Master — who reveals a secret.
Book 8 The Inside Story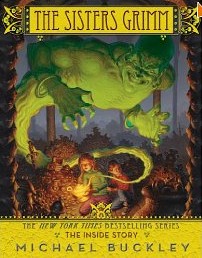 Picking up where the cliffhanger ending of book seven left off, this book follows Sabrina, Daphne, and Puck through the world of the Book of Everafter, where all the fairy tales are stored and enchanted characters can change their destinies. The girls (and Puck) must chase the Master through a series of stories, where they\\\'re willing to change what they need in order to save their baby brother. Soon, however, they are confronted by The Editor - the book\\\'s guardian - who, along with an army of tiny monsters known as Revisers, threaten the children with dire consequences if they don\\\'t stick to the stories. So they move from one legendary tale to the next doing their best to find the Master and stop his plan to steal and inhabit the child\\\'s body. Along the way they\\\'ll play the roles of Alice, Mowgli, Jack the Giant Killer, Hansel and Gretel, and the Headless Horseman in the stories they visit. Will they be able to find their brother in time?
Book 9 The Council of Mirrors *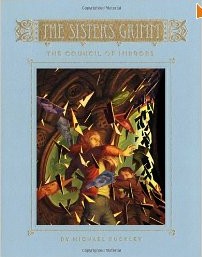 Book 9 The Council of Mirrors * is the final book in the series and will be released on May 8th 2012.(2012.11.27音频已上传百度云盘)
book1-9音频及epub文本:链接: 点击去百度网盘 -->(购买前请先验证网盘链接是否有效)